Agarwal, Preeti Removal of pollutant from industrial effluent using ion — exchange resin. Nath, Harjeet Studies on abatement of fluorides using fluidized bed reactor: Mohapatra, I Studies on zircon-dolomite system for refractory application. Mishra, D P Simulation of carbon dioxide – monoethanolamine – water system using equilibrium approach. Nayak, Madhusmita and Singh, Smrutidhara Fuzzy logic control of induction motor drive for performance improvement. Jain, Pavan Kumar and Md. Appala, Vishnu Murthy In silico screening of potential inhibitors against glutathione S transferase of plasmodium falciparum.
Bansal, Rajan Improving dimensional accuracy of fused deposition modelling FDM parts using response surface methodology. Mishra, Anwesh and Kumar, D. Priyadarshee, Om Pritam Bearing capacity of pond ash overlain by sand bed. Mallick, S Study on pulsed Nd: Mishra, Debashis Modeling of breakdown voltage of solid insulating material using artificial neural network. Dalai, Abhijit Nitrogen and helium liquefier design and simulation using aspen plus.
Items where Subject is "Engineering and Technology > Civil Engineering"
Mishra, Upasana Development of Cobalt-Magnesium doped hydroxyapatite for bone tissue engineering application. IstiyaqM and Agarwal, A Prestressed modal analysis of non uniform beam using ansys. Srivastava, Shivam and Saraogi, Mayur Electronic chip cooling in horizontal configuration using fluent-gambit.
Choudhary, Abhisek Synthesis and characterization of lithium silicate ceramic for the test blanket module tbm in fusion reactors.
Welcome to ethesis – ethesis
Rout, Jyoti Ranjan Study of the settling charactristics of fly ash-water slurry and designing of a settling pond. Sinha, Rahul Recovery of liquid fuels from oil bearing seed. MittalA Vibration analysis of laminated composite curved shells. Raj, Tapas and Jena, Ashirvad Designa and development of an automated paint mixing machine. Pati, Soumya Ranjan Synthesis and characterisation of activated carbon and its study on Cr VI removal from water.
Das, T Wet torrefaction of lignocellulosic biomass for the production of butanol. Choudhary, Akash Hand-written English numeral recognition system using neural network. Kumar, Abhijeet Development of low cost filter using herbal technique.
Browse by Thesis Type – ethesis
Agrawal, Mohit Implementation of reed solomon error correcting codes. Dash, Sanjit Object Height Estimation. Eliot, Elias Design, analysis and fabrication of an articulated mobile manipulator. Sangra, Pankaj Kumar Classification of Electroencephalography signals using mixture of Features. Sahoo, Sourav Kumar Engineering properties of warm mix asphalt using synthetic zeolite as an additive. Karthikeyan, G and Sahoo, Radharaman Independent component analysis based blind signal separation for mixed speech signal.
Browse by Division and Year
Creators Item Type No Grouping. Sutar, R Multi objective optimization of cutting parameters in turning operation using Taguchi method. Panda, Nishith Uncertainty modeling of ore body and grades using single normal equation simulation and sequential gaussian simulation: Animesh, Amulya and Mishra, Vivek Modification of collector of Electro spinning Machine for the fabrication of 3-D nanofibrous scaffold for Tissue Engineering applications.
Das, Sidharth and Baskey, Biram Baburay Design of an embedded system for the detection of tsunami. Gumpalli, Sai Prasanth and Kandipalli, Thesus Image Segmentation and Multiple skew estimation, correction in printed and handwritten documents. Sahu, Saurav Kumar Design of waste heat recovery system in a sponge iron plant.
Mandal, Itishree and Ray, Samiksha Hand gesture based digit recognition. Nayak, T Stability analysis of dump with admixture of fly-ash and overburden material in open-cast coal mines. Dash, Shreetam Numerical analysis in ranque-hilsch vortex tube.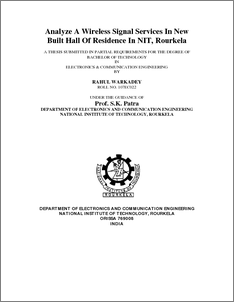 Bhandari, Sushma Artifical intilligence as a tool for ECG pattern recognition of menstrual phases in eumenorrheic young females: Baby Kumar, Vishnu Numerical modelling of photodynamic therapy. Nath, Harjeet Studies on abatement of fluorides using fluidized bed reactor: Mahapatra, Mitrabhanu and Biswal, Satya Prakash Finite element analysis of multifarious machine components.
Gupta, Brijesh Kumar Fabrication of Li2TiO3 pebble by studying the effect of binder content and sintering temperature on pellets.
This list was generated on Wed May 22 DasSwagatika Preparation of magnesium aluminate spinel by auto combustion route using glycine as fuel and densification study with Cr2O3 addition.
Sanamandra, Vamsi Image segmentation based on graph cut pixel based technique. Jay and RohitKumar Development of microcontroller based over-current relay controls.